Gym
Situated in the center of Cape Town CBD we offer a luxurious and spacious gymnasium of almost seven hundred square meters. Fitted with the most sophisticated gym equipment in the world, from Technogym ®, the decor ambiance is a sleek marriage of imported charcoal granite, carpeting and rich Brazilian walnut paneling.
RBSI Gym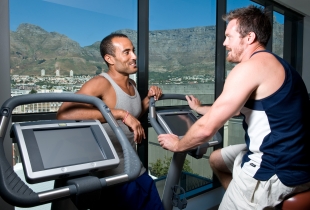 About
Equipment Includes:
-Touch screen TV's on all cardio.
-The new Cardio WaveTM, specifically designed for women.
-KinesisTM, a pully system, designed to move as you move.
-The Wellness SystemTM, for all your personal training needs.
-Powerplate, vibrate your way to the success.
-Yoga classes, Wednesdays 17:30 to 18:30
-Steam room and shower facilities.
Members Receive:
-Complimentary parking (on availability)
-Access through fingerprint access.
-Bath Towels and sweat towels provided for each workout.
Business Hours
Monday to Thursday: 06h00 – 21h00
Friday: 06h00 – 20h00
Saturday and public holidays: 07h00 – 15h00
Gym Services Include
Kinesis Studio

The Technogym Kinesis™ training zone on the fifth level, is a tri-dimentional pulley system that provides for unlimited exercises and movements to improve strength, flexibility and balance. Body and mind are required to interact with the environment and space in which you move. In-house personal trainers are available by private appointment to assist with Kinesis™ training or general workouts on all cardio and strength equipment.

Excite Cardio

A spiral staircase leads you to the fifth-level mezzanine, a cardiovascular training space in glass and steel, with invigorating wraparound city views. Each cardiovascular piece is fitted with a touch-screen TV display with personalised DSTV channel access. Members will be among the first in the world to use an innovative cardiovascular machine from Technogym called Cardio Wave, specifically targeting the core, glutes, thighs and calves. With Cardio Wave™, members will experience three types of exercises in one machine, all based on lateral movement.
Personal Trainers


Read more