Skin Care & Body Treatment
Good skin care is essential to aging gracefully.   Over time harsh elements in the environment cause the skin to become thicker and drier. Good skin care can slow down the harmful effects of time and the environment. One of the most important ways to take care of your skin is to protect it from the sun. Exposure to the sun without adequate protection can cause wrinkles, age spots and other skin problems. At Renaissance we have a variety of innovative treatments for the face and body. Our professional client care and scientifically researched skincare ensure client satisfaction.
Renaissance Skin Science
Skin Care & Body Treatment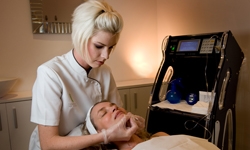 About
Renaissance Skin Science is an innovative Aesthetic Skin Care Clinic supported by a well-respected team of plastic surgeons that promise to deliver advanced, safe and proven techniques in cosmetic dermatology. Following an in-depth consultation patients are provided with a well-informed and personalized treatment program to target their specific needs. Renaissance Skin Science has a high standard of patient care and keeps their staff optimally trained in the latest development of cosmetic dermatology offering the best in skin care technology. Specializing in non-invasive aesthetic procedures, patient comfort and well being is practiced in a caring, confidential and professional environment.
Skincare products:
State of the art anti-ageing products, allowing both men and woman, to enjoy a more youthful appearance. Renaissance Skin Science Stockiest of: Environ, Neostrata, SkinMedica, Dermastine, Prevage MD, BioDerma, MesoEsthetics, HelioCare, LycoGel
Services Include
Carboxy Therapy

Carboxy Therapy is a procedure that uses carbon dioxide to get rid of stretch marks, cellulite and scars, as well as plumping the skin. Micro injections of carbon dioxide are injected just beneath the surface of the skin. This stimulates circulation and collagen production.

Photo Dynamic Therapy with ALA

Rejuvenate tired skin with ALA/PDT…Photo Rejuvenation is used in patients with excessive sun exposure to both dramatically improve skin quality and potentially prevent the development of skin cancers.

Chemical Peels

A chemical peel is a technique that improves the skin's texture and appearance by applying a chemical solution to the skin. The peeling creates a healing response at the lower layers of the skin that stimulates the production of elastin and collagen, resulting in smoother, radiant and younger looking skin.

Medical Skin Needling

Medical Skin Needling, also referred to as Collagen Induction Therapy (CIT) and Micro-Needling is aimed at stimulating the body's own collagen production to reduce the appearance of fine lines and wrinkles, stretch marks, skin laxity and scarring such as that caused by acne or chicken pox. It has also been successfully applied to the indication of hair restoration in cases of alopecia.

Light Therapy

Omnilux™is an effective non-invasive skin rejuvenation treatment that stimulates the body's own natural processes to fight the effects of premature ageing. It is a form of light-only skin rejuvenation. A blend of pure, visible red and infra-red light is targeted by narrowband Light Emitting Diodes (LEDs) against the skin to stimulate deeper tissue.

Medical Facials

Healthy Skin is characterized as luminescent, fresh energized skin with flawless tone and texture. Sun damage, skin laxity, texture irregularities and sensitivity however, reduce the skin's healthy glow and accelerate the aging process by slowing the skin's natural repair process. To clear, stimulate, rehydrate and increase the repair process, treat your skin to one of our Advanced Medical Facial Treatments.

Depigmentation treatment

Hyperpigmentation is often caused by sun exposure, hormones or your genetic background. Some types of hyperpigmentation will disappear naturally, but for many people, discolored patches and spots can last for years or even a lifetime.
Cosmelan is a multi ingredient, power-level treatment program for reduction and control of brown spots, skin discoloration and hyperpigmentation.
Business Hours
Weekdays 09:00 - 17:00